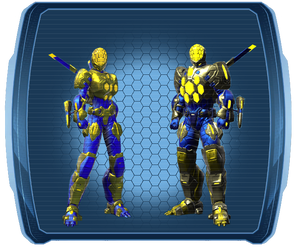 HIVE Defender is an Armor Style Set based on the armor worn by the drones of the Hierarchy of International Vengeance and Extermination (aka H.I.V.E.)
It was reintroduced as unattuned gear in the War of the Light Part II episode.
It is also available as attuned gear with item levels 195-209 (green) and 195-211 (blue) from Teen Titans: The Judas Contract content. The event versions are level 10-198 (green), 10-199 (blue), and 10-200 (purple).
Color-SchemesEdit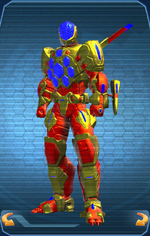 The HIVE Defender's overall color-scheme consists of three colors that can be chosen by the Player in the Style Window. Specific sections of the style's pieces can also be allocated a more specific colour by the Player.
Emblems do not appear on this style.
Female Appearance
Male Appearance